De-oiled Soya Lecithin Granules IP Grade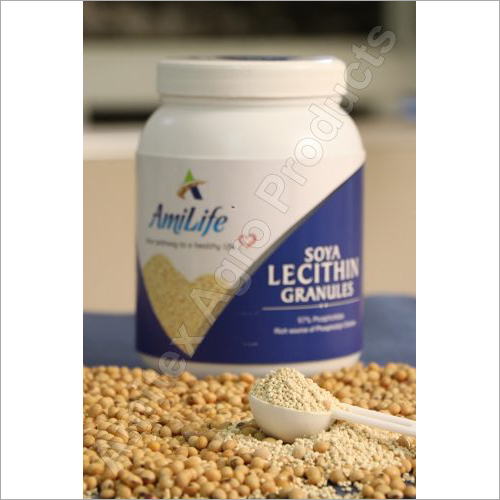 De-oiled Soya Lecithin Granules IP Grade
Price And Quantity
Kilograms/Kilograms

42.00 - 300.00 INR
Product Description
AmiLife De-oiled Soya Lecithin Granules IP Grade is an essential dietary supplement which is commonly used to give goodness and benefits of the phospholipids to the body optimal functioning. This high performance nutritional supplement can be directly consumed and helps to fight memory loss, cholesterol level, fat metabolism, anti aging and liver protection. It can be used with solid and liquid food items like salads, milk, smoothies, oatmeal, muffins, cakes, and protein shakes.
Product Specifications :
PRODUCT PHYSICAL SPECIFICATION

Parameter

Specification

Test Method

Description

Free Flowing powder

Visual

Color

Cream Light Yellow to Brown

Organoleptic

Appearance

Light Yellow-Cream Granules

Visual

Odor

Typical Predominantly Soya

Organoleptic

PRODUCT TYPICAL/CHEMICAL SPECIFICATION

Moisture / Loss On Drying By Carl Fisher

1.5% Max

AOCS 6TH EDN JA 2B-87 (2009)

Acetone Insoluble

97% Min

AOCS 6TH EDN JA. 4-46 (2011)

Peroxide Value

5 Meq/Kg Max

AOCS 6 TH EDN. JA 8-87 (2011)

Acid Value

35 mg KOH / g Max

AOCS 6TH EDN JA 6-55 (2011)

Hexane Insoluble

0.3% Max

AOCS 6 TH EDN. JA 3-87 (2009)

Toluene Insoluble

0.3% Max

AOCS 6 TH EDN. JA 3-87 (2009)

Particle Size

2-2.5 mm




Bulk density

0.4-0.45 gm/cc




PRODUCT MICROBIOLOGICAL PARAMETERS

Total Plate Count

Max. 1000 CFU

IS 5402

Salmonellae

Negative / 25 gm

IS 5887 Part 3

E. Coli

Absent cfu/g

IS 14397

Enterobacteriacae

<10 cfu/g

IS 5402

Coliform

<10 cfu/g

IS 5401 part 1 & 2

Yeast & Moulds

Max. 100 cfu/g

IS 5403
REGULATIONS

AmiLife De-Oiled Soya Lecithin Granules conforms EU regulations 1829/2003 and 1830/2003 free from GMO-declaration and conforms Commission Regulation (EU) No 231/2012 of 9 March 2012(E322) & Codex Aliment Arius Lecithin (322(i) Emulsifier Lecithin.

SHELF LIFE

AmiLife De-Oiled Soya Lecithin Granules has minimum 24 months from the date of manufacture if retained in original packing away from direct sunlight, moisture and air. Recommended Storage at ambient temperature (16-32 C).

PACKING

First Packing 10/20 KGS Vacuumed Aluminum Bag, second packing 20 KGS Corrugated Box Carton Box.
AmiLife De-Oiled Soya Lecithin Granules exclusively produced from NON GMO soybeans of 100% Indian origin, every batch is (Triple Scan) analyzed for GMO content. Individual Analytical report for each batch produced follow separately. These values are typical. Seasonal deviations may occur. All recommendations as well as formulations made herein are based on data believed to be reliable.
Product details
| | |
| --- | --- |
| Acetone Insoluble | 97% Min |
| Acid Value | 35 mg KOH / g Max |
| Appearance | Light Yellow Powder |
| Description | Free Flowing powder |
| Hexane Insoluble | 0.3% Max |
| Moisture | 1.5% Max |
| Odor | Typical Predominantly Soya |
| Packaging | 20 KGS Carton Box,Primary- LDPE Liner Bags,Secondary-Corrugated Box |
| Particle size | 100 % Pass through 40 mesh |
| Peroxide Value | 5 Meq/Kg Max |
| Shelf Life | 18 months from the date of manufacture if retained in original packing away from direct sunlight. |
| Toluene Insoluble | 0.3% Max |
| Color | Cream Light Yellow to Brown |